Our Staff
Clay Schaardt
Owner and Principal Auctioneer
402-862-5903
Clay is a June 2017 graduate of the World Wide College of Auctioneering. He also has an associates degree in Livestock Production and Management from Southeast Community College. He founded Schaardt Auction Service in June 2017. Clay also competes in auctioneer bid calling contests. He has multiple top ten finishes in Nebraska, Kansas, and South Dakota. Currently, Clay is a member of the Nebraska Auctioneers Association, Kansas Auctioneers Association, and the South Dakota Auctioneers Association. He also is a member of the American Simmental Association and a board member of the Southeast Nebraska Cattlemen's Association. In his free time, he enjoys raising his purebred simmental cattle on his farm by Table Rock, NE. Call Clay at 402-862-5903 to discuss the many auction options we have for you.
---
Jackson Evers
Auctioneer and Sales Agent
402-662-3077
Jackson is a September 2016 graduate of the world Wide College of Auctioneering. In his free time, Jackson enjoys watching sports, spending time with family, and raising cattle on his farm. Jackson is a member of the Nebraska Auctioneers Association. A native of Filley, NE, Jackson is committed to working for the seller and putting their interests first. He is a crucial part of our team from listing farm equipment for our online auctions as well as being there on sale day to help setup and auctioneer the sale. Contact Jackson at 402-662-3077 to learn more about the auction options available to you.
---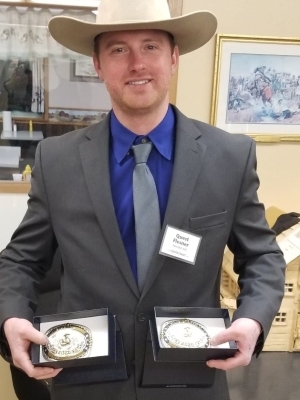 Quest Flesner
Auctioneer and Sales Agent
217-506-0064
Quest Flesner is a 2017 graduate of the Missouri Auction School. He has an associates degree in ag business and animal science from John Wood Community College. Quest is a member of the Wisconsin, Kansas, Missouri, and Iowa auctioneer associations. He is the 2020 Greater Midwest Livestock Auctioneer Reserve Champion as well as the 2020 Kansas State Auctioneer Champion. He is also the 2018 Reserve Champion Wisconsin Auctioneer with multiple top ten finishes in various auction contests. Quest has his federal firearms license. He enjoys auctioneering livestock and farm equipment along with running a few of his own cows. Quest is located in Hannibal, Missouri and takes care of a lot of our sales in Missouri and Iowa. Call Quest to talk about your auction needs at 217-506-0064.
---
Evan Hewett
Auctioneer and Sales Agent
308-636-6972
Evan Hewett is a September 2019 graduate of the Western College of Auctioneering. Evan is a native of Dunning, NE. Being from the Sandhills of Nebraska, Evan knows farm equipment. Evan currently resides in Omaha, NE and is primarily a sales agent for our online auctions through auctiontime.com. In his free time, Evanenjoys spending time with his family as well as being a rodeo cowboy and bull-dogging steers. Give Evan a call today for your auction consultation at 308-636-6972.
---
Kim Schaardt
Kim Schaardt is a part time worker for Schaardt Auction Service. Kim takes care of invoicing, accounts, and anything else that may need to be done in the office. Kim is Clay Schaardt's mother and really brings the value of family to our business. She also helps with clerking and bidder registration at our live sales. In her free time, Kim enjoys spending time with her family including her children and grandchildren. Kim is an important part of our staff and we are glad to have her working with us.